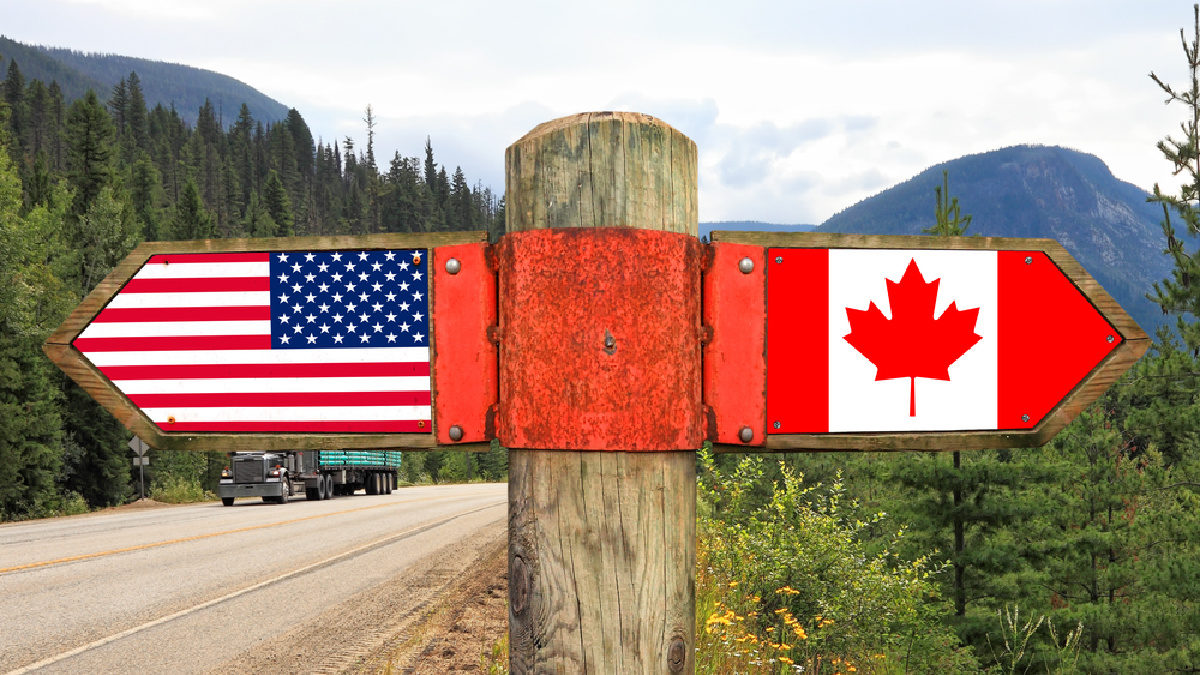 Last Updated on May 1, 2023 by Kristin
Heading to Canada and looking to rent a car there? Since August 9, 2021, American travelers who are fully vaccinated against Covid-19 may enter Canada. For United States residents, renting a car in Canada may seem very similar to what you're used to. But there are some key things to keep in mind as you head north of the border.
American travelers need to download the free ArriveCAN app, which allows them to upload passport information as well as proof of Covid-19 vaccination and Covid test results. Once you enter your information, the ArriveCAN app provides a receipt with a QR code. This must be shown at the Canadian border.
Essential Tips for Renting a Car in Canada
It may be cheaper to rent in the U.S. and drive to Canada.
If you're crossing the U.S.-Canada border during the trip, you may not even need to rent a car in Canada. Many U.S. rental car companies will allow you to drive the car across the border. Some companies' policies may not be clear in all situations. It is always advisable to read the fine print about cross-border rental policies and call with any questions before renting.
Book from home.
It will be cheaper to book your car from the United States before you get to Canada. The further ahead you reserve your car, the better the chance of landing a deal. That's because you can ask AutoSlash to watch out for price drops.
Ask AutoSlash for a Quote on a Cheap Car Rental
Rethink one-way rentals into Canada.
Simply driving a rental car into Canada is relatively easy, but dropping off the vehicle in Canada is another story. Don't assume you can rent a car in the U.S. and return it in Canada. Be sure to verify with the company first. Returning a car in a different location is generally a costly idea anyway, and usually includes a one-way drop-off fee.
Check insurance requirements.
The U.S. and Canada may be similar in many aspects. But double-check that your home auto insurance policy or credit card will cover your rental car in Canada. Geico, for example, extends its coverage to U.S. renters venturing into Canada (although it urges customers to make sure the rental car company allows it). However, it is always best to call the insurance company to make sure you are covered before traveling.
Pay for the rental in Canadian dollars.
It may seem easier to pay in U.S. greenbacks instead of Canadian dollars. But this option will cost you more in the long run. Pay in the local currency to avoid Dynamic Currency Conversion fees. If you opt to pay in U.S. dollars, the rental company converts the currency on your behalf. But this process is entirely unnecessary, since your credit card company will process the transaction in either currency, and you will pay through the nose for the non-convenience.
Pay attention to your speed.
Driving in most parts of Canada is very much like in the U.S., with similar highway layouts and road signs. However, there is one main difference–speeds will be posted in kilometers, not miles. So, pay extra attention to the speed limit to avoid tickets. Also, recent reports point to new speed cameras being installed in places including Toronto and Vancouver.
You can use your U.S. drivers' license in Canada.
Your U.S. drivers' license is acceptable when renting a car in Canada. You will not need an International Driving Permit (IDP). However, you should apply for the IDP if you travel often to countries where English is not one of the official languages. The process is easy, but needs to be completed before you leave for the trip.
Watch out for extreme weather conditions.
Driving in cities such as Toronto and Vancouver may not be too different from commuting in New York or Seattle. But Canada is a large country with extreme weather in certain areas.
Let AutoSlash Track Your Car Rental for Price Drops
Be prepared to take safety precautions for winter weather, especially if driving in remote areas with little cell phone reception. The Canadian government has prepared some tips for driving in extreme weather that are worth looking at before you head out.
Inspect the car carefully before driving it off the lot.
Make sure to protect yourself from potential false damage claims by carefully look over your car before driving away. Document every nick, scratch or dent. Your smartphone will come in handy for taking photos of any imperfections to ensure you won't have to pay for them later.
Related: