Last Updated on May 30, 2023 by Chris
There are two types of people. Those who've always dreamed of visiting Alaska, and those who fell in love with the place after they come. A few of us were even lucky enough to stay for a few decades. Planning a trip to the 49th State? Our road tripper's guide to Alaska will tell you what to do and see in the Great Land.
When To Go To Alaska
Summer is when most folks take a road trip to Alaska. Everything is green, the weather is acceptably warm, and all the tourist activities are open and running. By the way, in Alaska, summer means strictly June, July, and August.
Ask AutoSlash for a Quote on a Cheap Car Rental
But my recommendation is to skip summer and go in the shoulder season. The last two weeks of May and the first two weeks of September are the sweet spot. The vast majority of the tourism infrastructure is open and operational, but the crowds aren't here. That means prices for hotels, day cruises and rental cars are 20% to 50% cheaper. Plus, there's virtually no risk of anything selling out.
Late May has a better chance at seeing clearer skies. In early September, you can visit the Alaska State Fair in Palmer, home of world-record cabbages and fried fair foods. Yes, you might need a jacket, but it's worth it for the thinner crowds and cheaper prices.
Winter is a special time to visit Alaska. The long nights and frigid temperatures aren't all that attractive to tourists, and most attractions are shut down. You can still have an amazing experience, especially if you're into winter activities. But expect some challenges with getting around and getting into many sites. (For example, if you want to get into Denali National Park in the winter, you'll have to borrow snowshoes.)
The National Weather Service office for Anchorage is a great place to find short-term forecasts for the state. There's also a good Wikipedia article on the climate of Alaska.
Road Tripping Around Alaska
Any road tripper's guide to Alaska will tell you the best way to see the 49th State is with four wheels. Public transportation options are limited and expensive in Alaska. The Alaska Railroad is a fantastic operation, and I highly recommend a trip. But it's much more expensive than similar Amtrak trips in the Lower 48. You can spend north of $200 one-way from Anchorage to Fairbanks in regular coach class—ouch! A few private bus and van operators offer limited specialty trips around the state. If you want to get out of Anchorage — and you do — you'll want a car.
What To See In Alaska
There's so much to see but, of course, you will only be able to scratch the surface.
The state is massive. If you laid Alaska on top of the Lower 48, it would stretch from Florida to Minnesota and all the way out to California. Most of the state is not easy to get to — vast stretches of the state are only accessible by plane or, in some cases, boat. With such a tremendous spread, the different regions of the state have an entirely different character.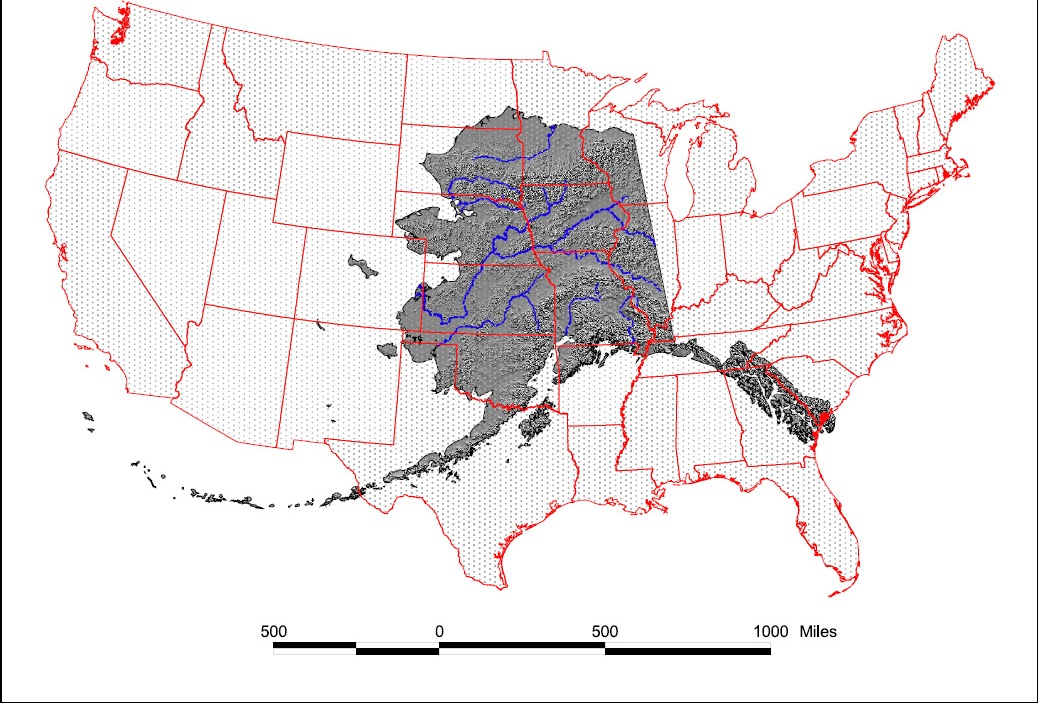 Southeast Alaska
Southeast Alaska is a good place for visitors to explore. The region is home to small capital city of Juneau. With famously rainy weather, mild temperatures, and a slightly hippie vibe, it is in some ways reminiscent of western Washington State. Popular destinations dot the region, including Ketchikan, Sitka, and the gold rush heritage city of Skagway. Most cruises to Alaska — as well as the state's ferry system — traverse this region's well-known Inside Passage.
Road Tripper's Guide to Southeast Alaska
Southcentral Alaska
The Southcentral region is home to Alaska's largest city, Anchorage. Backing up to the rugged Chugach Mountains, countless outdoor activities are within easy reach of town. The city itself shouldn't be the focus of your visit aside from a few interesting attractions like the Anchorage Museum and the very-well-done Alaska Native Heritage Center. Still, it serves as a convenient entry point for your visit, with the best airline connections and most affordable fares to the state.
Kenai Peninsula
Heading south from Anchorage will take you along beautiful Turnagain Arm, past the ski resort town of Girdwood and the fast-retreating Portage Glacier. Continue to the Kenai Peninsula, home of world-class sport fishing on the Kenai River and the popular tourist destination towns of Seward and Homer. Nestled in a spectacular fjord, Seward has a quaint downtown and the highly-rated Alaska Sea Life Center. Several different operators offer various day cruises on Resurrection Bay—well worth doing for the amazing wildlife and glacier views.
Homer is known as an artsy town (as well as a drinking town with a fishing problem) and is a popular place to take a halibut fishing charter. Both Seward and Homer are home to extensive commercial fishing operations for ocean-caught salmon, halibut, and many other prized fish. Back up toward Anchorage, just past Portage Glacier and through one of North America's longest tunnels, is the small hamlet of Whittier, home of several very popular glacier and wildlife cruises on Prince William Sound.
Mat-Su
North of Anchorage is the rich agricultural farming region of the Matanuska-Susitna Valley. Former Alaska governor Sarah Palin's hometown of Wasilla is little more than a five-mile-long strip mall, but the region holds much more. The quaint and historic town of Palmer is home to the Alaska State Fair (August-September), and further up the Glenn Highway are beautiful views through the Chugach Mountains.
Heading east from Palmer will take you past a grand view of Matanuska Glacier and to the junction town of Glennallen. From there, a turn south will take you past the turnoff to Chitina and the McCarthy Road, site of the now-defunct but well-preserved Kennecott Copper Mine. (Mind you, no car rental company will allow you on that road, and if you go anyway, be sure you have two full-size spare tires.) Next, it's over the spectacular Thompson Pass, which descends into the port town of Valdez, known for the oil tankers that carry crude south to the West Coast. Some of Alaska's best sea life and glaciers are a short distance from Valdez, and if you choose to make your way to Valdez and do a day cruise, you will be well rewarded.
Heading north from Wasilla along the Parks Highway will take you near the hippie town of Talkeetna (inspiration for the TV show Northern Exposure). Eventually it brings you up to Alaska's crown jewel, Denali National Park, part of Alaska's Interior region.
Road Tripper's Guide to Southcentral Alaska
Denali
Denali towers over the terrain and is visible from both Anchorage and Fairbanks. Great views of the mountain are prevalent (weather permitting) from the Parks Highway on the way up from Wasilla. But to truly experience the wonders of the park, head to the park entrance just south of Healy and embark on an adventure from there. Plan on at least one full day and preferably two.
The road into the park is closed to private vehicles. Park-operated shuttle buses leave throughout the day from just inside the park entrance. It's a full day to ride in and back out. You'll want to grab one of the early morning shuttles — the tan, modified school buses, not the more expensive green tour buses or the privately-operated motorcoaches that only go a few miles inside the park. You'll spy moose, caribou, bear, fox, and more.
Plan to reach at least the Eielson Visitor's Center for better mountain views. If the weather's good, you'll want to continue on to Wonder Lake for some of the best views you can get of Denali in all her splendor. Even if the mountain isn't out, the park is filled with spectacular vistas, and you're virtually guaranteed a close-up encounter with nature. A grizzly once walked right up to my bus and practically posed for a picture. You may want to repeat the trip on day 2, but if you'd rather not endure the long ride again, there's a ton to do near the park entrance. One of my favorite times to visit is in the early fall, which, in Alaska, that means late August or early September, when the tundra turns a deep ochre color—a color palette you don't often see in nature.
Fairbanks and Interior Alaska
Heading north from Denali will take you into Alaska's Interior region, home of Alaska's second largest city, Fairbanks. The Golden Heart City has many attractions of interest. One of Alaska's newer attractions is the Fountainhead Antique Automotive Museum. It's well worth a visit for a unique collection of interesting and innovative (and still running) cars from the 1890s through the 1930s—fascinating even for non-car buffs. Downtown Fairbanks very much retains a pioneer feel that harkens back to the gold rush days. The state-operated visitor's center along the Chena River has a fantastic exhibit on area's history and life in the remote villages of the Interior along with a series of films. The one on the aurora is quite fascinating.
The state's main university, the University of Alaska Fairbanks, has extensive and well-known research programs. Several of the university-affiliated institutions offer visits or tours that are well worth doing. The Large Animal Research Station has a neat tour where you can get up close to musk oxen and reindeer. The Geophysical Institute's tour provides a look at the university's cutting-edge research on everything from earthquakes to the aurora borealis. You can even tour the world's only university-owned rocket launch range. And of course, the university's Museum of the North remains one of the top-rated things to do in Fairbanks, and it is very much worth a visit.
Aurora Borealis Hunting
Winter in Fairbanks can be bitterly cold but comes with its own set of activities. At the top of anyone's bucket list should be seeing the Northern Lights. Fairbanks with its calm, clear weather, dark winter skies, and location close to the center of the auroral oval make it one of the world's premier places to reliably see the aurora, if it's dark, of course. Common local wisdom is that the chances of seeing them on any given winter night are around 50%.
My personal favorite place to see them is up at Chena Hot Springs, a little more than an hour outside of the city. The warm water is super comfortable on a cold winter night, and it's far enough away from Fairbanks city lights to offer ultra-clear viewing. They'll also wake you up if the lights come out in the middle of the night, and they offer aurora viewing trips up on the ridgeline for the ultimate auroral viewing experience.
Let AutoSlash Track Your Car Rental for Price Drops
And, of course, Fairbanks is the gateway to the remote northern reaches of Alaska. While the major rental car companies won't let you drive off of the paved highways, true adventure awaits for those who can make arrangements to brave some of the most remote stretches of road you'll ever drive or the small air taxis that head to villages more rural than some stretches of the deep Amazon.
Road Tripper's Guide to Interior Alaska
Bush Alaska
This road tripper's guide to Alaska will point out that the majority of land in the state isn't accessible by road. Travel in the Bush is not for the casual tourist. Infrastructure is limited: don't expect a Hilton or a Hertz. The larger cities are lucky to have a couple of lodges bookable online and maybe a few B&Bs to call for availability. The smaller villages might—and I stress the word might— have village corporation-owned housing or, barring that, land you might be able to get permission to camp on. Flights in and out can sometimes be delayed for days. Costs are high, to say the least. That said, some of Alaska's greatest treasures await for those who are comfortable going off the grid, and the rewards of getting to know the real Alaska are well worth the effort.
Road Tripper's Guide to Bush Alaska
Related: