Last Updated on April 24, 2023 by Kristin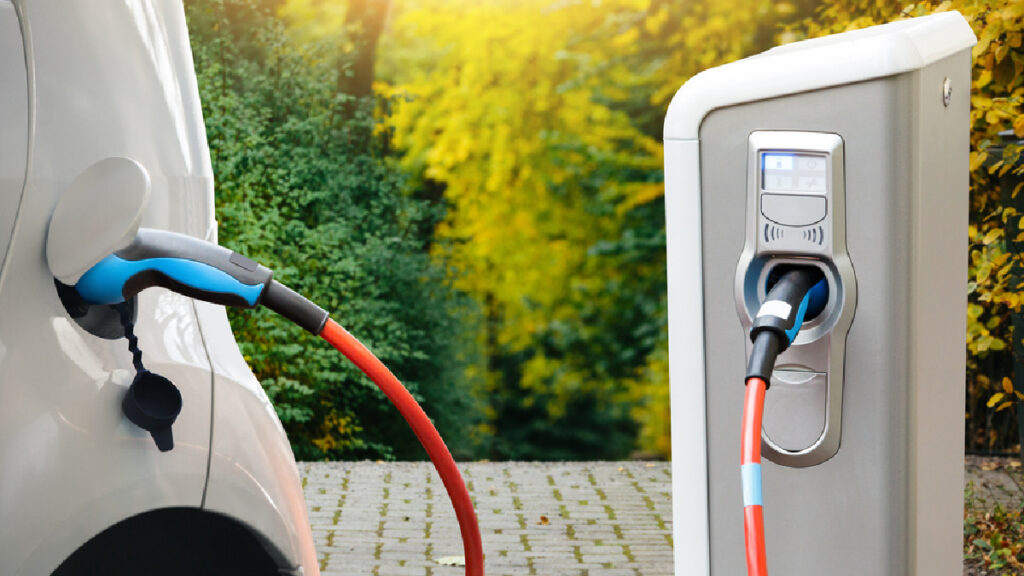 Electric vehicles (EVs) are gaining traction around the world, with drivers choosing these cars for their environmental advantage over standard gas-powered vehicles. As these cars increase in popularity, major car rental companies like Budget now rent electric cars.
Ask AutoSlash for a Quote on a Cheap Car Rental
Renting an electric car from Budget means you won't have to pay for gas. But you will have to consider some other things like planning where to charge the vehicle.
Which Electric Cars Does Budget Offer?
Budget offers several different types of sedan and SUV EVs, which it separates into three different classes. Because EVs are still not as popular as gas-powered vehicles for rentals, availability may be limited depending on the location and reservation time.
Budget's "Standard Elite SUV Electric Plus" category includes the mid-size Tesla Model Y and similar vehicles. The "Intermediate Elite Electric" class includes the Tesla Model 3 or similar vehicles. Finally, Budget's "Compact Crossover Electric" category includes the Kia Niro EV SUV or similar cars.
Budget's Electric Car Policies
While EVs still appear to be absent from the rental terms and conditions posted to Budget's website, a recent USA Today column noted that Budget's EV terms appear to be identical to those of Budget's sister company, Avis, and are outlined in a document outlining the rules for the company's Fastbreak loyalty program.
These terms mainly boil down to rules about charging EVs, roadside assistance and special considerations for Tesla rentals. Here is a summary of the most important points, including a fee for not charging the car enough before returning it.
Charging Levels
When renting a gas-powered vehicle from Budget, renters can usually choose between three options for covering fuel costs: Filling up the tank on one's own, pre-paying for fuel or paying the rental company to refill the car.
EVs, on the other hand, do not use fuel. Budget, along with its sister company Avis, say renters based in the U.S. and Canada can expect to receive cars with at least a 70% battery charge. If renters return the car at a level below that, they will incur a $35 fee — unless the charge is below 10%. In that case, the fee doubles to $70 — a good chunk of the daily rental fee.
No One-Way Rentals
Budget's terms also specify that it does not allow one-way rentals with EVs. Renters who attempt to return the EV to another location will not only be on the hook for getting it back to where it came from, but will pay loss-of-use fees equivalent to a day's rental rate for each day it was out of service.
In other words, return your Budget EV to where you rented it from, or else risk paying days' worth of extra rental fees without even using the car.
Roadside Assistance and Equipment
Running out of batteries in an EV rented from Budget will set you back the towing costs to get the vehicle back to the rental location. In case of other types of breakdowns, Budget will provide a gas-powered vehicle.
Budget also says that charging equipment, key cards and anything else that goes with the EV must be returned. Its loss damage waiver (LDW) does not apply to these items.
Special Tesla Terms
Those renting a Tesla from Budget must pay attention to additional rules, which mainly focus on recharging these vehicles through the special Tesla Supercharger charging stations. Tesla renters agree to pay for the fees to use these chargers, as well as any "idle fees" that kick in when leaving the car on the charger for too long after the battery is fully powered.
Will Your Insurance Cover an Electric Car Rental?
Before renting an EV, it's wise to make sure your personal auto insurance policy will cover the value of the rental. Since EVs typically cost more than standard vehicles due to their complex batteries and high-tech components, check to make sure whether your personal auto insurance or credit card has a sufficient coverage level for these vehicles. Also, be sure to check whether those policies would cover a problem with the battery or any other electrical issues.
How to Rent an EV from Budget
Renting an EV from Budget is relatively straightforward, but requires a few extra steps than searching for a standard rental. You can choose your rental car location, date and pickup time as you would for any car. Scroll down until you see one of the above-mentioned vehicle classes with the word "electric" in the title.
If you do not see any electric vehicle classes, it may mean that no EVs are available at the pickup location.
Let AutoSlash Track Your Car Rental for Price Drops
How do you know you're getting the best deal on an EV or hybrid? Head to AutoSlash for a free quote on an electric vehicle rental. We'll scan the market for all possible deals on car rentals through Budget and other brands to find the best price in the market. Getting a quote is completely free, and in just a few minutes you'll have all the information about the best deals in your inbox.
Related: