Last Updated on November 1, 2023 by Chris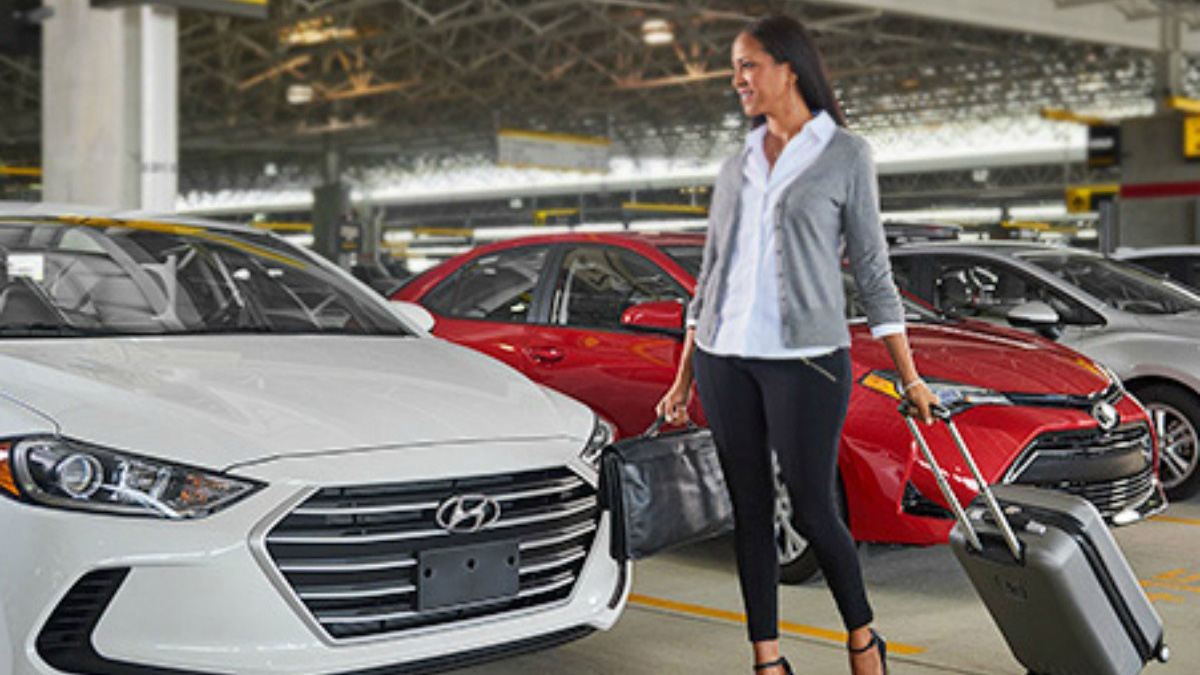 In late 2016, Hertz rolled out Ultimate Choice, a service that lets you choose your own car instead of getting assigned the same old, same old. But how does this service stack up against National's Emerald Aisle? And how can you get the most bang for your buck?
Hertz has a service that really comes through—not only with a slick, well-designed system but even, in some cases, some pretty nice rides and enticing upgrades.
Ask AutoSlash for a Quote on a Cheap Car Rental
When we first tried Ultimate Choice in December of 2016, Hertz had just rolled it out to its first location at Austin Bergstrom International Airport. By the end of 2019, Hertz had 58 US locations and one in Canada (Toronto) for a total of 59.
Hertz offers Ultimate Choice at most of the country's top airports. So if you rent from Hertz airport location, chances are you'll probably run into Ultimate Choice.
The Benefits of Hertz Ultimate Choice
Rather than the rental agent assigning you a specific vehicle in a specific parking stall, you get to choose your car from an entire row of vehicles.
Reserving a full-size car? Instead of being handed keys to a rough-riding, sluggish Chrysler 200, you head out to the aisle marked "Full-size" and pick anything you want. Like the dependability of Toyota? Pick the Camry off the line. Want a few more bells and whistles? There might be a Ford Fusion with Sync sitting there. Heading into the mountains? You might spot a Subaru Legacy. Looking for fuel economy? The Volkswagen Jetta might appeal to you.
Get the Most out of Hertz Ultimate Choice
To take advantage of Ultimate Choice, you'll need to sign up for Hertz's free Gold Plus Rewards program. It costs nothing and takes only a couple minutes to fill out the form on Hertz's website.
Then, when you book an intermediate (mid-size) car or higher at an Ultimate Choice location, not only do you get to skip the long line at the rental counter, you also get to pick from a special section of vehicles just for Gold members. Hertz tries to reserve nicer trims and lower-mileage vehicles for the Gold section, so instead of Corollas and Sentras with 50,000 miles on them, you might find a Hyundai Elantra (a fun car to drive!) with 15,000 miles and maybe even leather seats. Often you'll find numerous fullsize cars in the Gold section as well as SUVs, minivans, pickup trucks, and maybe even a convertible.
How to Gain Status in Hertz Ultimate Choice
It gets even better once you have a few rentals under your belt. Just five rentals in a calendar year earns you Hertz Five Star status. A mid-size reservation at an Ultimate Choice location as a Five Star customer will give you access to an even more special Five Star vehicle selection. In the Five Star aisle, you'll probably see full-size vehicles and maybe even some small SUVs. There's a good chance you can drive away in something roomy without paying for an upgrade.
Road warriors who rent 20 times or more in a calendar year and achieve Hertz's top-tier President's Circle level can take ultimate advantage of Ultimate Choice. With a dedicated President's Circle selection, a mid-size reservation can net some nice catches. While standard full-size cars are common, we've seen everything from an Infiniti Q50 and a Volkswagen CC to a Jeep Grand Cherokee and a Chevy Impala LTZ. Expect anything from Cadillacs and Camaros to Suburbans and Siennas.
Let AutoSlash Track Your Car Rental for Price Drops
While selection varies by location, season, day, and even time of day, the President's Circle lineup at most Ultimate Choice locations will usually have you driving something fun—or big—for the price of a mid-size car. Truthfully, the introduction of Ultimate Choice is what makes the Five Star and President's Circle status levels valuable. Before Ultimate Choice, the upgrade benefits were inconsistent or non-existent.
How Hertz Ultimate Choice Works
1. Sign up for the free Hertz Gold Plus Rewards program,
2. When making your reservation, be sure to include your Gold member number
3. Reserve at least a mid-size car (you can reserve a larger one, but unless you need a specific car size, there's no point in paying more than you have to.
PRO TIP: If you find some other vehicle like a pickup truck that is priced lower than a mid-size car, book that! You'll still be able to use Ultimate Choice. You can actually book anything other than an economy, compact, or manager's special and still be eligible for Ultimate Choice.
If you haven't yet signed up for Hertz Gold Plus Rewards, then at this point you need to wait in line at the rental counter. Once your paperwork is processed, you'll head to the aisles labeled Compact, Mid-size, or Full-size, depending on your reservation.
4. As you approach the Hertz parking lot—or if there's a shuttle bus, when you disembark—look for signs directing Gold members to the parking lot,
5. Proceed to your designated membership level's area—Gold, Five Star, or President's Circle.
6. Choose any car from that area. If nothing floats your boat, check out the Premium Upgrades area for some nice rides for only $25-35 a day more.
7. Get in, drive to the exit gate, show your driver's license, and you're on your way.
Hertz Ultimate Choice vs. Avis Preferred Select & Go
Hertz's two main competitors in the premium rental market are Avis and National. Avis doesn't offer anything like Ultimate Choice. The closest service is Avis Preferred Select & Go, which works more like Hertz's older Gold Choice program. It's been around for years. You can exchange your assigned mid-size car for a limited selection of other mid-size cars. Hertz's Ultimate Choice system is much smoother, and we much prefer how Hertz Gold Plus Rewards points earning and redeeming system is structured.
Hertz Ultimate Choice vs. National's Emerald Aisle
National pioneere the choose-your-own-car service in 1988 with the introduction of the Emerald Aisle for Emerald Club members, and the company has put a lot of effort into a smooth operation and feature-rich mobile app. With over 70 Emerald Aisle locations in the U.S., National has more major and mid-sized airports covered than Hertz at this time. National also offers an upgraded "Executive Selection" of vehicles to members who reach Executive-level status, similar to Hertz's Five Star and President's Club offerings. Anecdotally, though, National has become a little stingier lately with the vehicles in the Executive Selection, and National also tends to be a bit more expensive than Hertz—though AutoSlash often finds that coupons and discounts can change that.
In the end, the choice likely comes down to whichever brand offers the best deal for your particular rental. But at least with Ultimate Choice, now there is a real competitive choice.
Related: