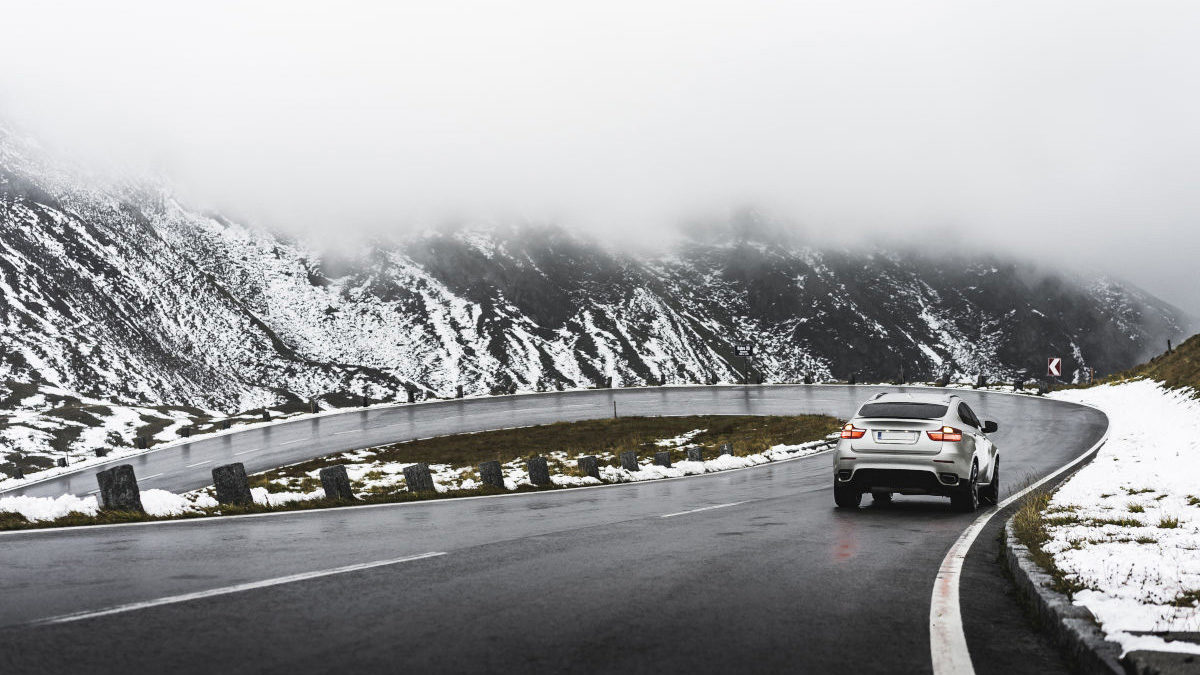 Last Updated on October 2, 2021 by Michael
Renting a car in winter weather? It can be very difficult to reserve a 4WD or AWD vehicle, so here's what you need to know about driving a rental car where you might encounter snow and ice.
While not explicitly written into their policies, rental car companies really, truly, deeply
do not want you driving their vehicles in hazardous weather, especially weather that mandates the
use of snow chains.
Buy Collision Insurance For Less Than What You'll Pay at the Rental Counter
Rental car companies generally won't guarantee 4WD and AWD vehicles outside of small specialty groups. Instead, they provide 2WD vehicles with all-weather tires instead of M&S (Mud and Snow)
tires, and ban the use of snow chains. In the vast majority of driving situations—even in snow and ice—the combination of 2WD with all-weather tires is all you'll need.
Ski Racks, Yes. Snow Chains, No.
Rental car companies will provide winter packages that include ski racks, often at a cost of $15 (plus tax) per day. Yet there's no add-on available for snow tires or snow chains. If rental car
companies determined that snow tires and chains could be profitable (given the risk), they would surely offer them.
Comparison of Car Rental Company Policies for Winter Travel
Nearly every major rental company has a similar policy, since it is owned by one of three parent firms:
Destinations Where Snow Chains are Required
Travel to certain popular tourist areas, including in California, Colorado and Oregon, and you may encounter times when snow chains are required on certain routes.
Heading to the California Sierra Nevada range via Interstate 80 or US-50? The State of California lists three levels of traction control in wintry weather short of closing the entire roadway:
Requirement One (R1): Chains or snow tread tires required. Snow tires must have a tread depth of 6/32″ with an "M & S" imprint on the tire's sidewall.
Requirement Two (R2): Chains required on all vehicles except four-wheel drives or all-wheel drives with snow tread tires on all four wheels. NOTE: four-wheel and all-wheel drive vehicles must carry traction devices in chain control areas)
Requirement Three (R3): Chains are required on all vehicles, no exceptions
Driving in Yosemite National Park in the winter? You may encounter chain restrictions between November and March. The National Park Service (NPS) notes that "rental cars companies generally don't provide chains" but rental cars are not exempt from chain requirements, even if they have all-season tires."
Do Not Skirt Rental Car Policies
We've seen too many examples of bad things happen to good people who stretch the rules in rental cars. Those mistakes are costly. Drivers wrecking a rental car while breaking a rule often end up paying for the car, as your insurance will be void if you violate the rental contract.
Chains can cause damage to tires, rims, wheel covers, fenders, and engine compartments if they are installed incorrectly, slip, break, or are the wrong size. If the rental car provider says no chains,
accept it.
Requesting Chains When Reserving a Car
Note that some car rental services will allow customers to select a check box requesting tire chains for car rentals in the U.S. and Canada, then permit reservations with companies that don't allow chains. What happens to those requests? They will not be honored by the rental car companies.
Related: