Last Updated on May 1, 2023 by Michael
Thinking of signing up for the National Emerald Club loyalty program? National is consistently ranked as the best car rental company in the world by the readers of Travel + Leisure magazine. The company is clearly doing something right. Its free loyalty program delivers an unmatched selection of benefits available from the very first rental.
Tips When Signing Up for National Emerald Club
When you enroll in the program, you will need your driver's license handy. You'll provide an email address and phone number, then create a user ID, password and security question.
You will also need a credit card. National does not allow you to sign up for this program with a debit card. If you have a credit card that provides rental car coverage, strongly consider using that credit card. You may enter additional credit cards to your account, if you like.
Ask AutoSlash for a Quote on a Cheap Car Rental
You can opt in or out to receiving email receipts and offers from National via email.
Next, you can decide whether to receive rental credits or partner rewards. You earn a free rental day for every seven rental credits. Alternatively, you can earn miles or points with your chosen frequent traveler program on every National Car Rental.
There is an opportunity to note your preferences for insurance coverage in the U.S. and abroad. You can accept or decline the loss damage waiver (LDW), Liability Insurance Supplement (LIS), Personal Accident Insurance (PAI) and roadside assistance options. If you're confused about which box to check, consult our Quick Primer on Rental Car Insurance and Ultimate Glossary of Car Rental Terms.
Unsprisingly, there's also some upsell here. You can purchase optional add-ons such as GPS navigation and National's fuel service option, but we highly recommend that you do NOT check this box.
There is no opportunity during the enrollment process to decline the Currency Conversion Charge on international rentals, but you should definitely do so at the rental counter.
The Three Levels of National Emerald Club Membership
Everyone starts at the Emerald Club level. Above that, National has two additional tiers: Executive and Executive Elite. These customers with more than 12 rental credits or 40 rental days per year (the stated requirement for Executive) receive an expanded selection of guaranteed upgrades from which to choose. Executive Elites are guaranteed an available vehicle with 24-hour notice.
There's even a shortcut to Executive status. Some premium credit cards, such as the Chase Sapphire Reserve Card and American Express Platinum, offer Emerald Club executive status as a travel benefit. So from day one, a new member can benefit from an expanded vehicle selection and quicker access to free rental days.
Benefits of National Emerald Club Membership
Among other benefits, the base level of Emerald Club allows you to earn free days with National or Enterprise bookings, select your own vehicle from the Emerald Aisle at many airports simply by booking a midsize, bypass the rental car counter, and add a second driver for free.
Emerald Club members have the ability to register additional drivers for free, which is a great perk. Renters who don't plan in advance sometimes find that the additional driver fee can even exceed the cost of the rental car itself. Even better, National allows you to add up to nine additional family members as drivers. The only provision is that all drivers must be present with IDs and credit cards when the rental commences.
How to Earn Free Rental Days with National Emerald Club
All Emerald Club members earn free rental days. Executive and Executive Elite members earn free rental days more quickly than base Emerald Club members and can reserve a wider range of vehicle types.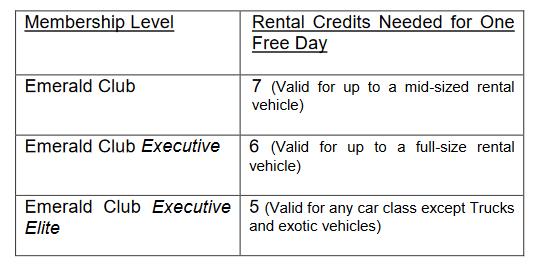 Wondering how free rental days work in real life? On a recent holiday trip to Las Vegas, an Executive Elite member was presented with the following pricing. A luxury SUV could be booked with cash for a base rate of $264.00 ($314.99 after taxes and fee) or the same member could redeem a free rental day and drive the same vehicle for just $5.76.
Let AutoSlash Track Your Car Rental for Price Drops
National can also be used on one-way rentals. Canceled flight or need to get somewhere fast? A free rental day might fix that travel problem for minimal funds.
Want to get even more value from your Emerald Club membership? National also runs a One-Two-Free promotion in the fall and winter that can help customers earn additional free rental days for every two qualifying rentals of two days or more. Credit toward free days can also be earned through activities such as renting for longer periods of time (such as a week) or adding SiriusXM satellite radio to a one-day rental. One-Two-Free award days are in addition to the award days ordinarily earned by Emerald Club members.
Related: