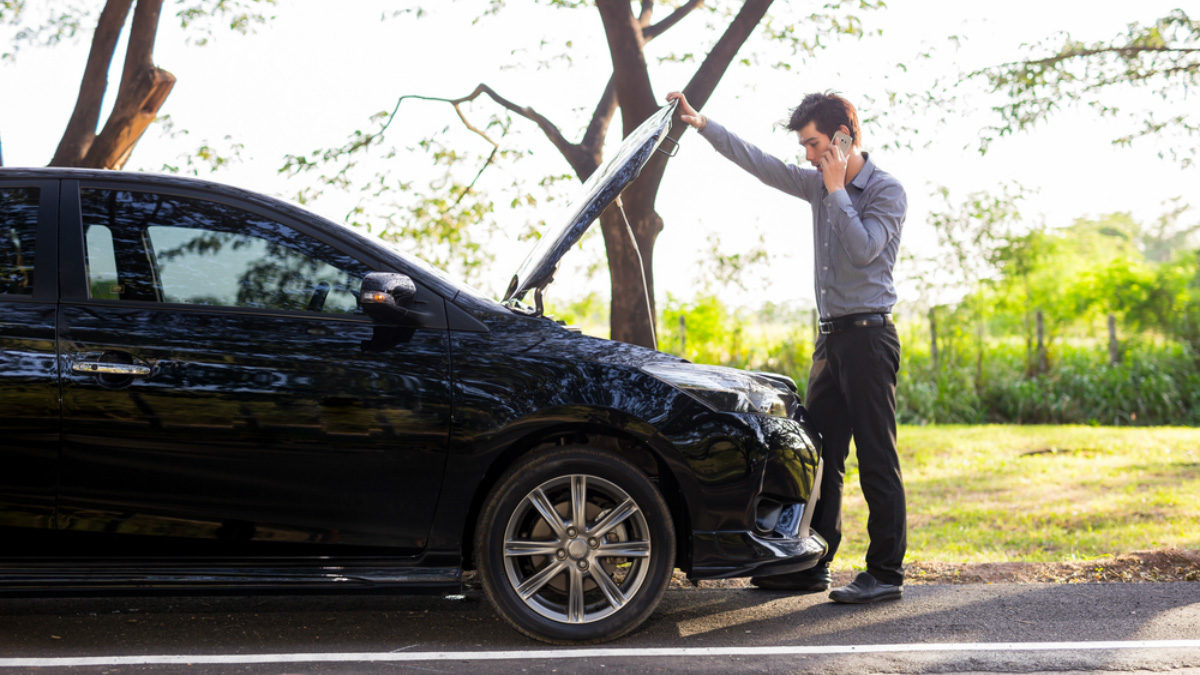 Last Updated on May 30, 2023 by Nico
Getting a breakdown in your car definitely sucks. A breakdown in a rental car can be a nightmare.
First things first. Safely pull over and turn on your flashers. Try to determine the source of the issue—is it simple, like a dead battery or an empty gas tank, or is it complex, like an oil leak or squeaky brakes?
This guide will walk you through how to deal with rental car breakdowns.
What to Do if Your Rental Car Needs a Quick Fix
Dead battery? Flat tire? Out of gas? You can handle any problems on your own that don't require a trip to a mechanic. You can arrange for roadside assistance, save your receipt and let the rental car company know what happened.
What may dismay a lot of renters is that roadside assistance does not necessarily cover the cost of the new battery or tire itself—just the labor cost. You may end up paying for the parts yourself if the rental car company determines that a driver error caused the problem.
Ask AutoSlash for a Quote on a Cheap Car Rental
If you shelled out for the rental company's roadside assistance, use it—but be aware that the policy may cover labor but not parts. If you have AAA or a credit card whose benefits include roadside assistance, go for it. Credit card benefits usually cover dead batteries, tire changes, fuel delivery, lockout services, and basic winching.
Don't have any of these options? Call the rental company and ask for a recommendation. Alternatively, you could also use a pay-per-use platform like Urgent.ly or the Honk app, which are affordable and fast.
What to Do if Your Rental Car Requires a Mechanic
Engine trouble? Squeaky brakes? Call the rental company. These issues aren't a quick fix and likely require repair work. Ask the company to recommend next steps.
If the car is undriveable, ask the rental company how to arrange for a tow. Should you use a third-party service or will the rental company take care of it? You are responsible for towing charges if the car is undriveable due to your fault. Yet for the majority of mechanical issues caused by everyday wear and tear on the vehicle, you will be reimbursed.
Buy Collision Insurance For Less Than What You'll Pay at the Rental Counter
Where should you bring the car? Save any repair receipts so the rental company can reimburse you later.
If you are going to be out of a vehicle while the car is in the repair shop, how will the rental company get you a new one? Even if you have to wait just a few hours for repairs, try to get reimbursement for that day's rental to make up for the inconvenience.
If the car was seriously defective, ask for a full or partial refund on your rental.
Who Pays for Rental Car Repairs?
If repairs are necessary due to a mechanical defect, the rental company should cover the costs.
Sometimes there are ambiguous situations where it's not clear if the issue is the fault of the renter or due to a commonplace mechanical issue. Did the battery die because it was old or because you left a light on in the car? Did a tire blow out because it was worn or because you ran over some glass? If it is covered by the manufacturer's warranty, the rental company will take responsibility.
But be aware that you could be on the hook for some costs. Rental agreements state that damage caused by the renter is the responsibility of the renter. If you have damage and collision coverage from the rental company or an independent insurance company like Sure, you'll be covered. Otherwise, you'll have to file a claim with your insurance or pay out of pocket.
Be Prepared for Unusual Circumstances
If the issue isn't your fault, the rental car company will likely swap you into a new rental for free. Call ahead and make arrangements to drive into a rental location and replace your faulty vehicle with a new one.
What if my rental car gets impounded or clamped? If you were parked illegally, the rental company isn't going to cover recovery fees so it's best to pick up the car on your own. You'll likely need to a copy of your rental agreement to get the car out of the lot.
Let AutoSlash Track Your Car Rental for Price Drops
Don't delay getting your rental out of the impound lot, since you are liable for any damages that happen to the car, even when out of your possession.
Did you have a breakdown in a rental car? Use our flowchart to determine your next steps.
Related: