Last Updated on November 1, 2022 by Paige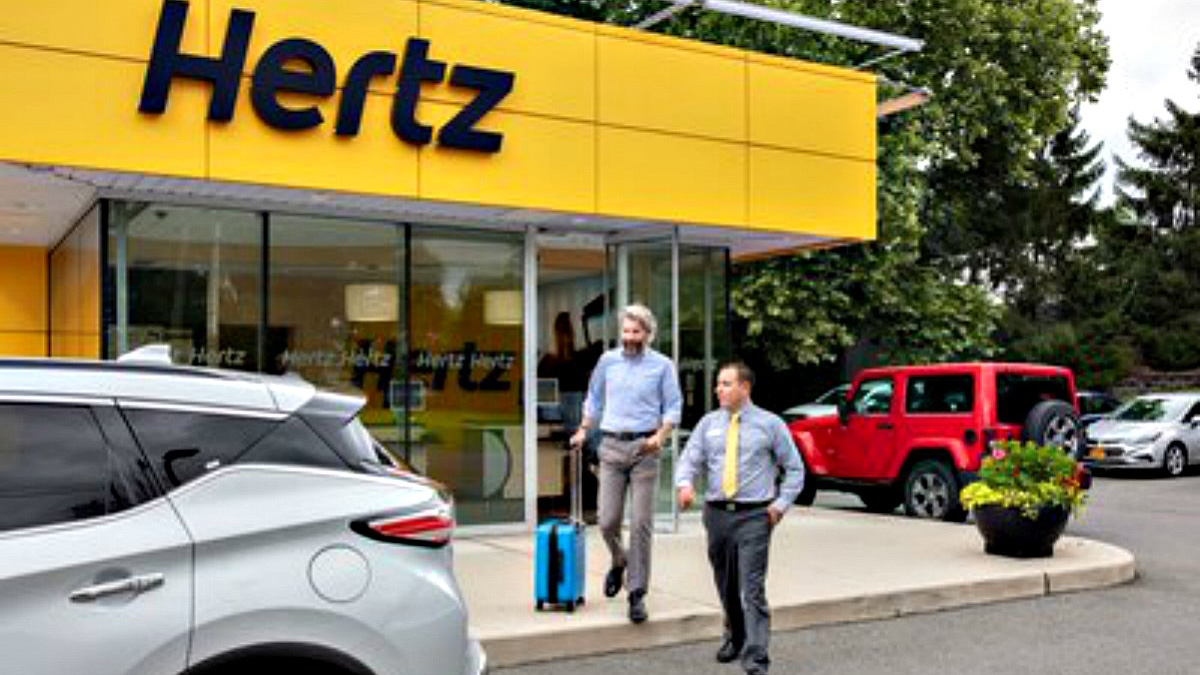 Find out who owns Hertz Car Rental and how you can save big on your next rental.
The Hertz Corporation, a subsidiary of Hertz Global Holdings Inc., is an American car rental company based in Estero, Florida. Hertz is focused on mainstream leisure travelers. Its sister companies, Dollar Rent A Car, Firefly Car Rental and Thrifty Car Rental, cater to cost-conscious travelers.
No matter what part of the world you're in, Hertz is likely to compete for your car rental needs. Why? Hertz operates 12,000 corporate and franchise locations internationally. With franchise locations throughout North America, Europe, The Caribbean, Latin America, Africa, the Middle East, Asia, Australia and New Zealand, the Hertz brand is one of the most recognized in the world. The brand was also the first to switch to a computerized system in order to speed up the process of renting a car for customers.
History of Hertz Car Rental
The history of Hertz car rentals dates back to 1923, when founder Sandor Hertz left the taxi cab business and purchased a rental-car company from Walter Jacobs in Chicago. Together, they built a small local business into a worldwide brand.
Ask AutoSlash for a Quote on a Cheap Car Rental
The collaboration between Hertz and Jacobs led to the Hertz company opening its first car rental shop at Chicago's Midway Airport in 1932. Almost twenty years later, Hertz's first European car rental center opened in France. By 1950, Hertz established itself as the first rental car business to open 1,000 locations throughout the world. This well-known company was also the first to establish locations in China.
Hertz also rolled out the "Green Collection" in 2006, making them pioneers in offering fuel-efficient, environmentally friendly vehicles such as the Toyota Prius. As the largest worldwide airport general-use car rental brand in the world, Hertz is also focused on maximizing value and convenience for customers. It also continues its support of eco-friendly vehicles through its "Green Traveler Collection."
Hertz filed for bankruptcy in May 2020, citing a decline in revenue caused by the COVID-19 pandemic. In July 2021, the company came out of Chapter 11 bankruptcy.
How to Make the Most of Renting from Hertz
There are several ways to make the most of your rental experience:
Join the frequent renter program. The free Hertz Gold Plus Rewards loyalty program allows members to earn premium status the more you rent. Members can also forgo waiting in line through faster checkout and redeem points for free rentals and more.
Let AutoSlash Track Your Car Rental for Price Drops
Receive priority access. Hertz Gold Plus Rewards members receive special designated parking stalls so that dropping off your rental car is fast and easy. You can also skip the counter by reserving online, return the car through E-Return, and receive upgrades for more luxurious vehicle options.
Use the app. Be sure to download the Hertz app, which allows you to select your preferred car upon arrival, skip the counter at pickup and return, and even lock and unlock your car through your phone or tablet. There are even map features showing Hertz locations, gas stations, and more.
Related: