Last Updated on March 27, 2023 by Kristin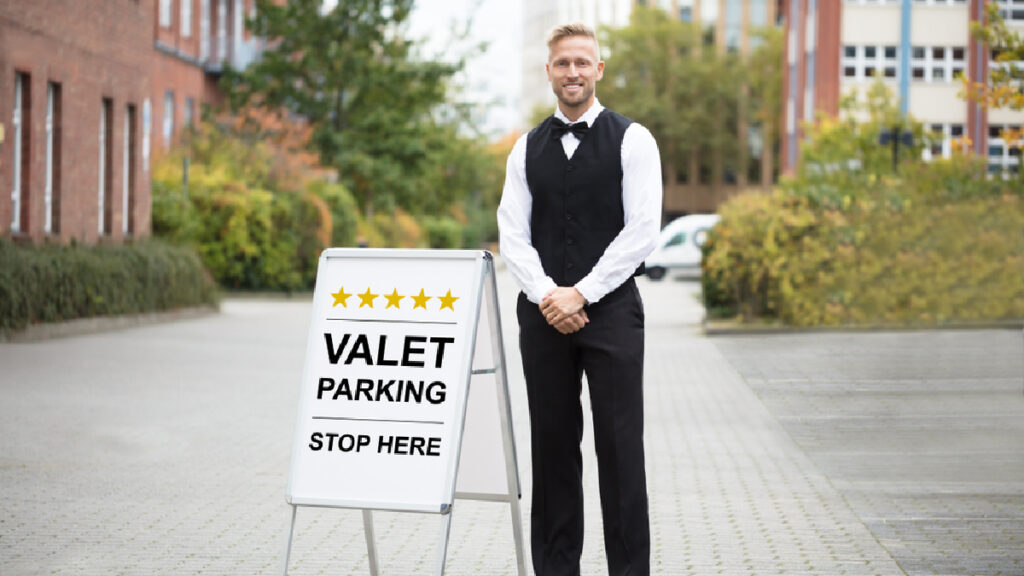 Should you trust your rental car in the hands of a valet at a hotel, restaurant or casino? It's a dilemma most of us probably wouldn't think twice about until it's time to hand over the keys. The short answer is it can be risky to let a valet park your rental car.
With most rental car companies, only authorized drivers are eligible to operate your rental vehicle. Allowing anyone else to drive is a violation of the rental car agreement. However, it's not always that easy to avoid using a valet. Sometimes there is simply no other parking choice near a hotel or venue.
Ask AutoSlash for a Quote on a Cheap Car Rental
Here's what to keep in mind when considering whether to valet park a rental.
Check The Fine Print of Your Rental Agreement
Letting a valet park your rental car is risky. That's because of how most rental companies decide who is allowed to use the vehicle. In theory, letting any unauthorized driver take the wheel of the vehicle could land you on the Do Not Rent List.
Rental car companies require customers to specify who will be driving the vehicle in advance. All additional drivers' names and license information is added to the contract. These people are known as "authorized drivers."
Authorized drivers have express permission to drive the car while under a rental agreement. Rental companies often allow renters to add a colleague or domestic partner free of charge. But typically charges a fee for each additional driver.
Rental car companies do this to ensure that the car will be in good hands. They usually check to make sure any additional people using the vehicle have a clean driving record.
Some Companies Offer a Valet Exception
If you rent from Hertz, Dollar or Thrifty, an exception for valet parking is spelled out in the terms and conditions of the rental contract:
"Except to the extent necessary for valet parking or in an emergency as permitted by law, no other persons are permitted to operate the car; for purposes hereof, an "emergency" shall mean urgent circumstances under the laws of the jurisdiction in which the alleged emergency occurred."
If you know you will be staying at a hotel with valet service, consider this exception when choosing a rental company.
When renting a car from a non-Hertz brand, be sure to ask if there is a similar carveout for valet parking.
Who is Responsible if a Valet Damages a Rental Car?
While travelers valet park their rental cars every day without thinking twice, accidents can happen.
If a valet happens to cause damage to a rental car, the best-case scenario is that the establishment will take responsibility for the costs. If the valet service refuses, you as the rental car customer likely will be on the hook for the damages. Even if the valet service covers the expense, you can still be in trouble with the rental car company if they find out an unauthorized driver was behind the wheel.
Allowing an unauthorized driver behind the wheel can also void any loss damage waiver (LDW) coverage or insurance purchased through the rental car company. In fact, as Progressive Auto Insurance points out, your personal auto insurance company might not cover the damage if an unauthorized driver is involved. That could leave you to cover the repair bill on your own.
In the worst case scenario, an unauthorized valet driver damaging your vehicle could mean that you are not only on the hook for damages, but also end up on the rental car company´s Do Not Rent list for letting an unauthorized driver use the car.
Let AutoSlash Track Your Car Rental for Price Drops
At the end of the day, handing over your rental car to a valet does carry some level of risk. The question is whether it's a risk you are willing to take.
Clarify Rental Terms Before Signing
We should mention here that while we hope this information is useful, it should not be taken as legal advice. If you have any doubts about what your insurance would cover potential damage to the rental car due to valet parking, it's always best to ask the rental car company for clarification ahead of time.
Related: